ABOUT US
Smith Attachments supplies the NZ and Australia Market with ATV / UTV Bullbars and Accessories, as well as ATV Trailers to Farmlands and the agricultural sector, Smith Ute Lids and Ute Decks to the NZ Ute Market. We also have a Metal Fabrication Shop that supplies a large range of products – from seed screens and ducting to toolboxes for Ute Decks. We pride ourselves in providing a quality product, with a high-quality finish and great service along the way. Smith Attachments Ltd has a dedicated, knowledgeable team of 7 staff that have 50 years of various engineering experience between them.
MEET OUR FRONTLINE PEOPLE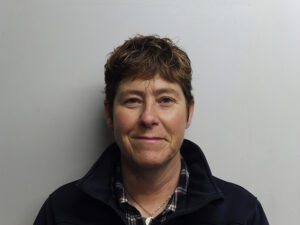 Sharyn Amos
Position: Managing Director
Experience: Smith Attachments since 2000
Working with the team to develop new products that our customers will value is something I really enjoy. When we can also offer them products that best fit their requirements provides a sense of pride for the whole team.
Outside of work I have an interest in a wide range of sports, including having represented NZ in hockey. On the weekends, I spend a lot of time at our house in Twizel. I enjoy going to the Gym, Hunting, Tramping, Fishing, mountain biking, Jet Boating and anything else the outdoors has to offer. I have two adult sons. I am a member of the Ashburton Rotary Club.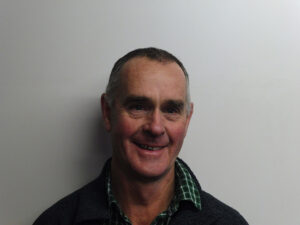 Bram Amos
Position: Sales Director
Experience: Vast experience (35 years) in Farming, Agricultural Contracting and the Transport Industry.
Being able to get out around our customers talking to them about our new products always gives me a great deal of satisfaction and especially when they tell me how pleased they are with gear they have previously purchased off us.
My interests away from work are Jet Boating, Hunting (Thar, Chamois, Deer), Fishing, anything else the outdoors has to offer and spending time at our house in Twizel. I have two adult sons.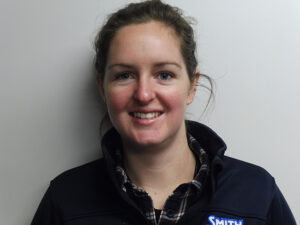 Kayla Wiggins
Position: Office Manager
Experience: Smith Attachments since 2010
I spend a lot of my day talking with clients on the phone and enjoy the banter and good humour of our customers from a wide range of businesses.
My interests away from work are Tramping, Pole Fitness, 4 Wheel Driving, Farming, Mountain biking and going to the Gym. Being born and bred in Methven, I have an involvement in community events, including the Methven Show.
Susie Amos
Position: Horse Float Sales
Experience: Secondary Science Teacher, Experienced Horse Rider and Coach
Marrying into the Amos family in 2021 came hand in hand with taking an interest in Smith Attachments. I am very happy to be looking after the customers in the Smith Floats department and look forward to putting my experience with horses and people to use.
I have evented horses all of my life and spent a lot of time coaching and training horses.  I am currently involved in coaching Tinwald Pony Club but have had to take a step back from riding as my husband Matt and I are expecting a baby girl to join the team in April.
Matt Amos
Position: Auto Electrician & Air Conditioning Specialist
Experience: National Certificate in Motor Industry Automotive Electrical Engineering through MITO in 2017, 10 Years of Experience in Auto Electrical & Air Conditioning Repairs
As a qualified auto-electrician it has been good to tie my skills into the family business. As well as doing the sparky work for our own products I have a vehicle on the road everyday and most of my time is spent doing on-farm repairs to farm machinery for local farmers and contractors.
Passionate about hunting, boating, running and all things outdoors I enjoy getting out and about as often as possible. When not competing in running or multisport events, my weekends are spent in the hills with our dog and binoculars.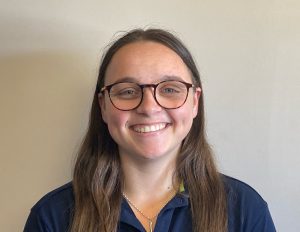 Kelly Rotch
Position: Office Administrator
Experience: Smith Attachments since 2019
I spend a lot of my day talking with clients on the phone and enjoy the banter and good humour of our customers and suppliers from a wide range of businesses.  I enjoy the challenge of always learning something new and have learnt a whole range of things I never thought I would need to know – including being fluent in auto electrical terms, engineering and now taking on the new challenge of horse floats.
My interests away from work are Football, Rugby and going to the Gym.  I was born and bred in Ashburton, and if you can't find me here, you will find me at Rangitata enjoying jet boating and the range of other outdoor activities available on our back doorstep.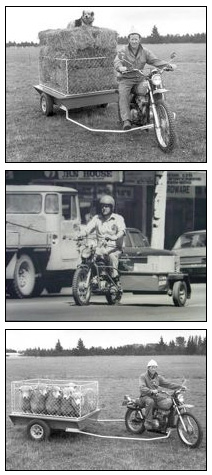 Smith Attachments Ltd was formed over 40 years. In fact, in true Kiwi fashion, the company began in Ian Smiths garage. Not long after, this niche Manufacturing Engineering Company entered the market producing Carriers, Handlebar Protectors, and Towbars for Honda 125cc motorcycles. He also developed a small range of trailers suitable for towing behind these motorcycles.
In the years following this, a range of sidecarts (both fixed and pivoting) were developed to increase the load capacity of these early two-wheeled motorcycles. These side carts proved extremely successful and were produced for many years. While they've definitely seen better days, some of these well designed and manufactured side carts are still in working condition!!
When three-wheeler motorbikes entered the NZ Market, Smith Attachments moved with the times. This opportunity paved the way for manufacture of towbars, carriers and racks for these ATV's. In the early days, the New Zealand Farmer couldn't get enough of these accessories and to meet demand Smith Attachments was making them in batches of 200. This eventually led to the idea of developing bullbars to protect the ATV, which was becoming an integral part of a farmers working machinery. Today, our ATV (and UTV) Bullbars are still in huge demand.
In 1980 Ray McCormick joined Smith Attachments and in 1982 began a successful partnership with Ian Smith. This partnership combined the best of product development knowledge and business direction, and continued until 1999 when Ian retired from the company.
1980 was a strong year for the company; they trebled the size of the workshop and purchased their first tube bender, which improved the speed and quality of production immensely. Smith Attachments policy has always been one of continuous improvement through innovation and design, and this remains their key goals today.
As time moved along New Zealand saw continuous development in the motorcycle market, and by the late 1980's four-wheelers made their entrance into New Zealand. This created an even greater demand for protective equipment, for both the bike and its rider. Ray & Pam McCormick ran the company for a number of years, during which time the company grew to command a major share of the New Zealand and Australian Australia Bullbar and Accessory Market. They also built up a business supplying ATV Trailers and Stock Crates New Zealand wide.
In 2012 Sharyn Amos who had been working in the company for the previous 12 years, and her husband Bram, purchased shares in the company and in 2017, they took full ownership.  From here, Smith Attachments introduced a range of premium Ute Decks and Ute Lids (known as Smith Lids) onto the market.  Smith Attachments also has the ability to manufacture high-quality custom-built Toolboxes, Utility Boxes, Dog Boxes and Crates, as well as supply and install Yakima and Rhino Rack NZ Accessories.
In 2019, their son, Matt Amos brought his experience as a qualified Auto Electrician and Air Conditioning Technician to the business, offering on farm repairs, TracMap Installs and servicing from the Waimak to the Lindis Pass.  With this on board, Smith Attachments is really a one stop shop for new vehicle fit outs.
2022 saw an exciting development for Smith Attachments.  In February we introduced Smith Floats to the market and Susie Amos joined the team with her knowledge of the horse industry.
All of this is a natural progression and a significant development from the company's beginnings over 45 years ago.